Last Saturday, 27 September, the much-touted Occupy Central was officially launched. Tens of thousands of Hong Kong students and residents enraged and frustrated by the decision of the Standing Committee of the National People's Congress in Beijing with regard to the Chief Executive election in 2017 took to the streets in Admiralty, close to the new government headquarters overseeing Victoria Harbour. They soon poured into Central and Causeway Bay, blocking the traffic arteries on the northern shore of Hong Kong Island.
On Sunday afternoon, a handful of protesters stormed the police's defence line in Admiralty by trying to remove the iron railings. In response, the police fired 87 teargas shots in an attempt to disperse the protesters, from Central to Causeway Bay, where most protesters did virtually nothing other than sitting, standing, chatting or chanting slogans every now and then.
Undoubtedly, it was a disastrous and foolish decision. For one thing, the protest has been largely peaceful and in great order, much better than what we have on the busy, narrow streets of shopping districts flooded with tourists, local people and promotion booths on weekends. For another, whether to deal with that handful of protesters trying to provoke the police, for whatever reason, justifies the use of teargas, and in that quantity, is highly questionable. A comparison that has been circulating on Facebook said that only seven teargas shots were fired when the police were dispersing the aggressive Korean farmers protesting against globalisation during the Sixth WTO Ministerial Conference held in Hong Kong in 2005. If the data were accurate, it provides strong evidence against the use of 87 teargas shots last Sunday, of which the police owe the Hong Kong people an explanation, and even an apology, for misjudgment.
In no time the consequences of the police's blunder took effect. Protesters began to assemble at the crossroads of Nathan Road and Argyle Street in Mong Kok on Sunday evening. In about 24 hours, the crowd expanded to the north and south, occupying sections of Nathan Road from Waterloo Road to Mong Kok Road. Last night the part of Nathan Road between Waterloo Road and Public Square Street in Yau Ma Tei was also reportedly blocked. Hours before the 65th birthday of the People's Republic of China, hundreds of protesters also occupied the part of Canton Road running from Kowloon Park Drive to Salisbury Road in Tsim Sha Tsui, which is well-known for the luxury brands scattered along.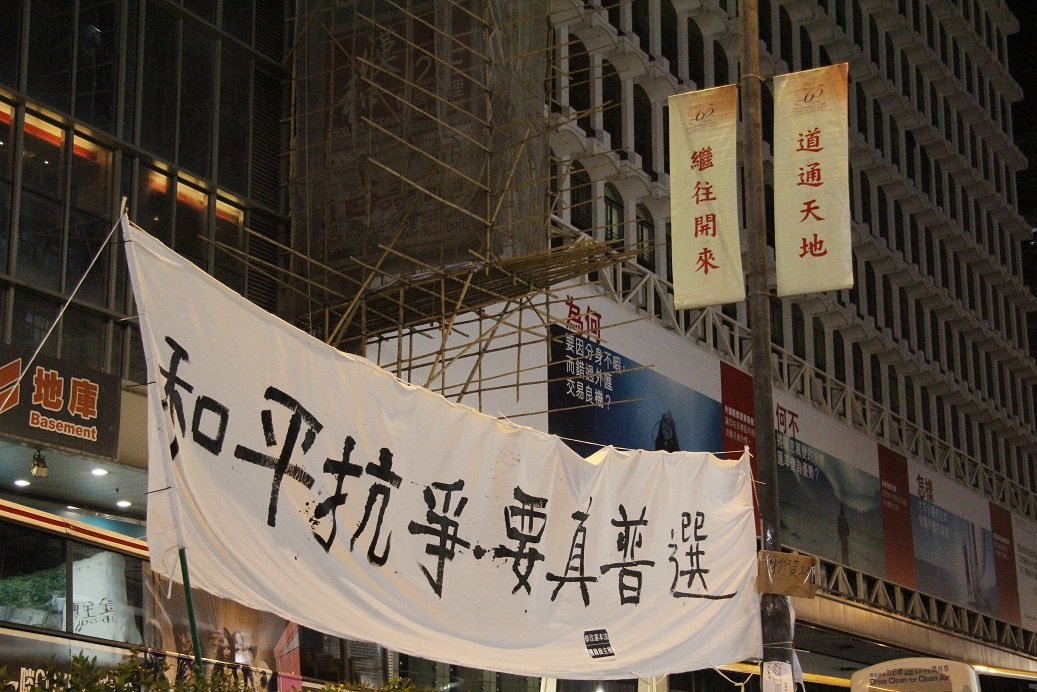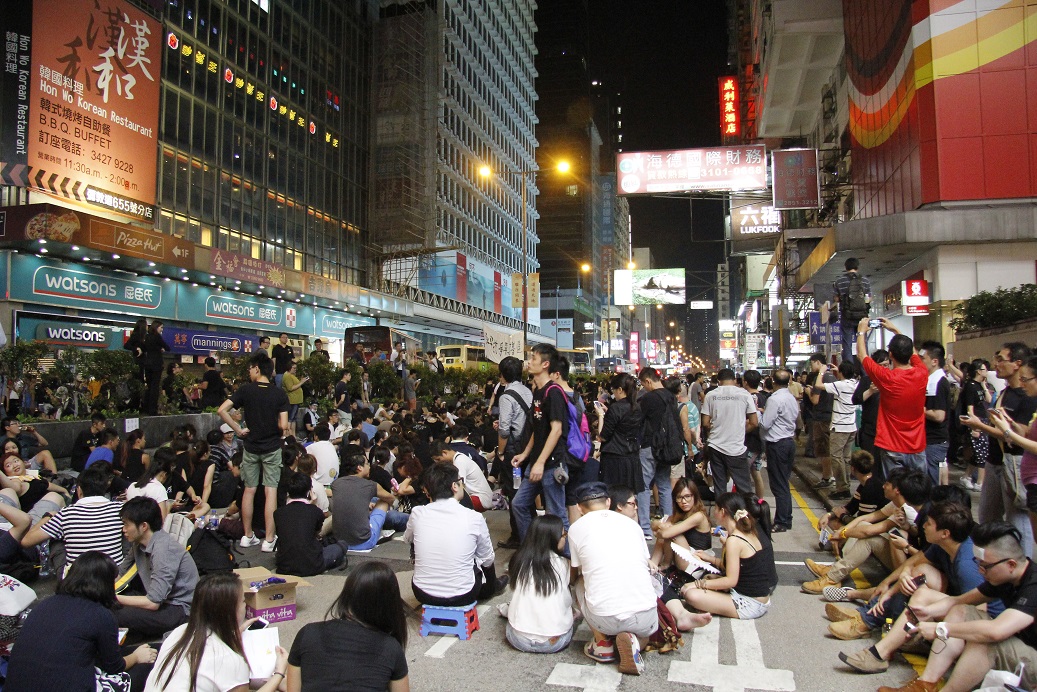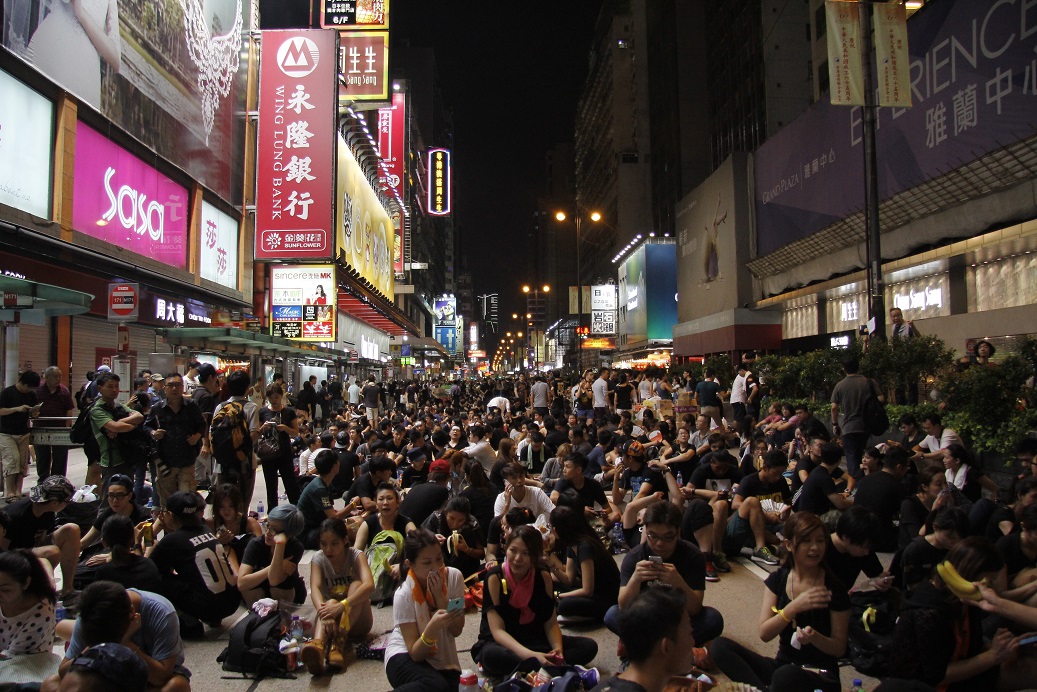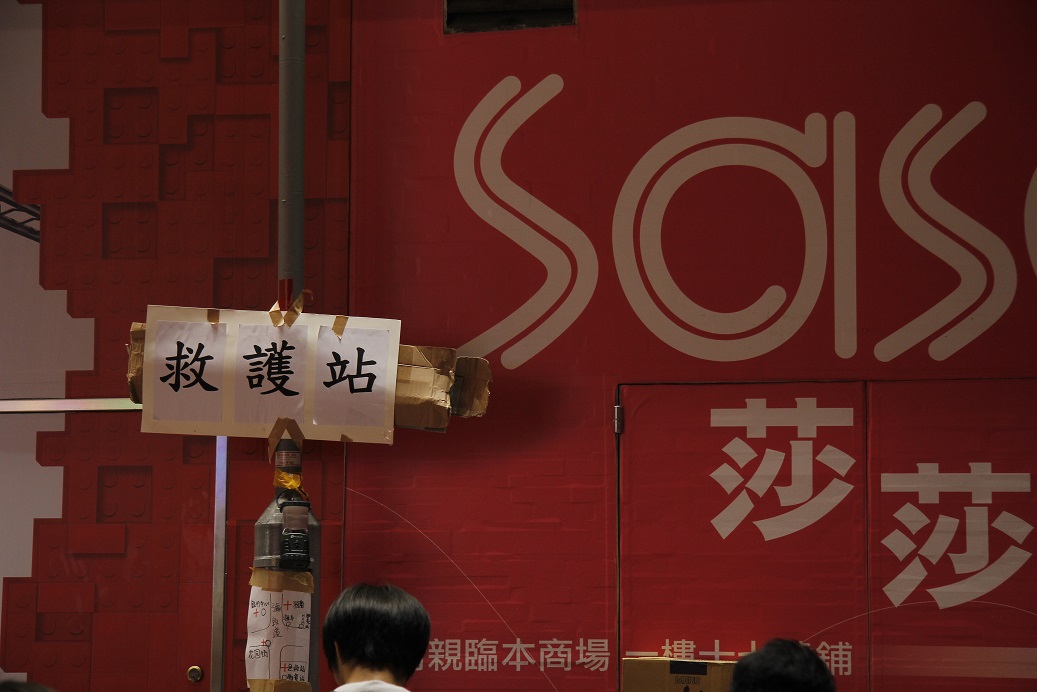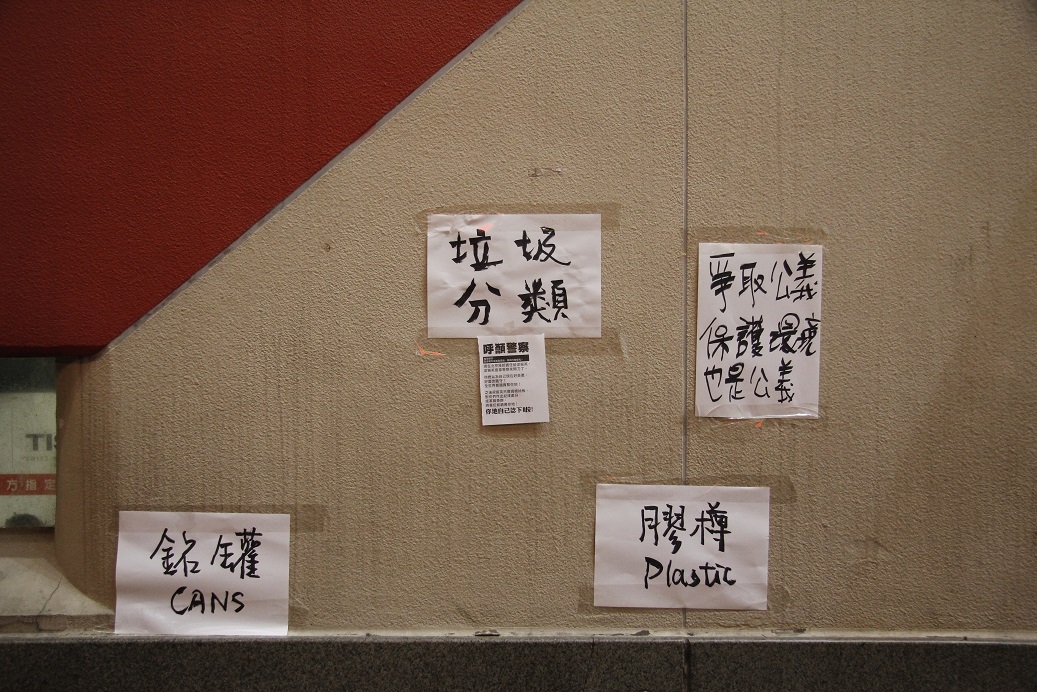 After a long day's work on Monday, I went to Mong Kok to observe the protest. Not surprisingly, there have been too many rumours and stories running around, and the best way to know the situation is to observe with my own eyes. I was very pleased to see the protesters sitting quietly talking to their friends, or reading news and updates on their mobile gadgets, or simply doing nothing, as if they were engaged in deep thinking. Volunteers walked up and down Nathan Road to distribute food and water donated by anonymous, enthusiastic supporters, and collecting litter from the protesters. First-aid stations and resource collection booths were set up. I also came across a group of five young men of South Asian origin carrying boxes of bottled water, asking people if they need them in Cantonese and English.
Personally I do not agree with the strategy of taking to the streets, because I find it hard to accept law violation as a means for a great cause. At the end of the day, it undermines the rule of law, which is a cornerstone of our very existence. How far can the cause justify the means is highly debatable. It also gives the authorities a pretext for suppression. So far we are lucky that the government has exercised great restraint except the teargas saga on Sunday, but they still have every legitimate reason to crack down on the law-breakers. I was most worried at the dawn of the National Day, because I thought the authorities would hardly tolerate such a big embarrassment as its "birthday gift". But eventually nothing happened. I am so happy and relieved that I was wrong.
Disagreeing with the occupation strategy doesn't mean that I antagonise the protesters, however. Actually I am greatly sympathetic to them, not just because I share their frustration and the loss of hope, but also appreciate their courage to do whatever they can in such a civilised, peaceful and restrained manner to express their opposition, even though we all know very well that it is going to take to nowhere. At least we prove ourselves as highly dignified, mature and well-behaved citizens who deserve respect from all, and set a great example of peaceful protest for the people in China and other parts of the world fighting for democracy and justice.
Unfortunately, for one reason or another, we have missed all the chances to negotiate and work out a better solution. Beijing has made it clear that the decision is final. The Hong Kong administration has no power to reverse the situation. Beneath all these, the lack of trust between Beijing and Hong Kong has been allowed to poison bilateral relations for too long. Little, if any, has been done to address this underlying problem. Indeed, most Hong Kong people are genuinely anti-communist, otherwise our parents wouldn't have come to start their life anew in the British colony. And we wouldn't have been born here. Thanks to all those idiots in the pro-establishment and pro-democracy camps who have done nothing constructive but repeat their poorly composed rhetoric, the mistrust only widens over time. Media attention always focuses on those who make bold, radical and irresponsible remarks. People who don't take their sides are never heard, let alone represented. Legislators have been engaged in dogfights, forgetting their accountability for the electorate. Moreover, asking the communist regime for genuine democracy is also, we should know too well, a mission impossible; just like the old Chinese proverb of "finding fish on a tree". But we are in no position to overthrow the regime. Even thinking about it may be condemned as dangerous.
What is most confusing and intriguing for me is that when so many protesters have no trust in the Chinese communist regime, even go that far to condemn it and ask people not to take its words seriously on the one hand, and insist that they have no intention whatsoever to overthrow it on the other. But isn't it clear that Beijing's mandate is crucial to foster and legitimise any political or constitutional change in Hong Kong? If we don't recognise the authority of the party that holds the power of saying "yes"or "no" to our reform and don't believe in what they say, what is the point of yelling at it? Why should it bother with the people who don't give it a damn?
Judging from the current situation, it seems unlikely that either the protesters and the authorities would back off. As a result, I see no hope that the current gridlock would be resolved. The best outcome would be the protest to come to an end without any violence, the Legislative Council rejects Beijing's decision, and the Chief Executive election mechanism remaining as it is in 2017. All I can do now is to pray for God's mercy on Hong Kong, and to grant us courage and wisdom for reconciliation. I truly hope that it is not wishful thinking or too much to ask for.