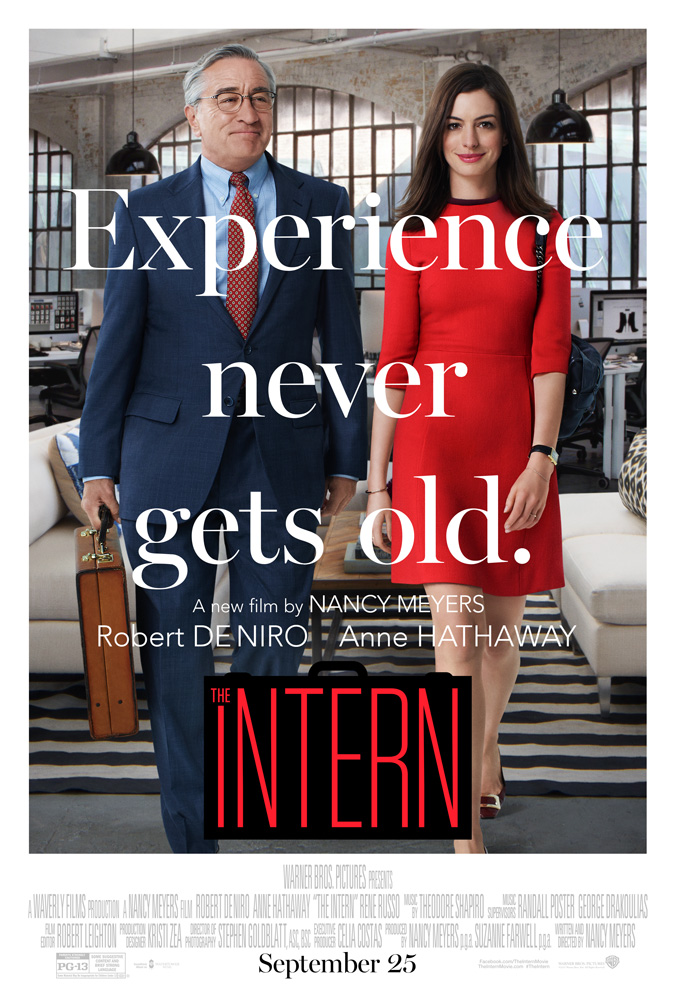 Starring Robert De Niro and Anne Hathaway, The Intern is said to be the kind of mood-setting light comedy that makes people's day. Unfortunately it doesn't work that well for me, or as much as I want it to, probably because I no longer believe in the existence of miracles in daily life.
Nancy Meyers' screenplay is well researched and tactfully written, sprinkled with real-life delicacies and trivialities that help pull up a grin on the spectator's face for resonance with personal experience. Yet precisely this familiarity attributes to my resistance of the plot, which, quite understandably, was meant to keep hope and trust alight. Pardon my scepticism and negative thinking though, it just all seems too good to be true.
One of the original The Intern posters proclaims, 'Experience never gets old.' Certainly there is a grain of truth in it, but from what I saw from the film and have come across in life so far, it is not so much about experience but experience-converted wisdom. Wisdom is often generated from experience but possession of experience does not necessarily guarantee anything meaningful or valuable in return. Very often it ends up with a chest of fragmented memories that suffocates the open mind like an hourglass blocked by gems. Just as Bernard G Shaw famously puts it in Maxims for Revolutionists, 'If we could learn from mere experience, the stones of London would be wiser than its wisest men.' So, the key question is, how can experience be transformed into wisdom?
De Niro's Ben in The Intern offers a great example for reference, although it is more a showcase of the essential or ideal attributes than anything else. Working at the same company for 40 years and knowing the business of an obsolete industry inside out does not prevent him from embracing the brave new world with open arms and heart. Like many of his age, he is not familiar with the electronic gadgets and non-personal forms of communication, such as making a short video of himself talking and uploading it to the internet. At least he is willing to ask his grandson for instructions and capable of putting it into practice on his own. Notwithstanding his strong beliefs and judgements, Ben never complains. He knows exactly when to speak up and when not, so that he won't sound like a grumpy old man who feels sick of whatever comes into the way. Most importantly, his sharp discernment does not deprive him of consideration, patience and tolerance. He is willing to listen and readily accepts whatever may seem odd and different. In fact, Ben appears so discreet and modest that his self-centred young colleagues soon find him easy to get along with, always ready to help and extremely resourceful. From the dress code to how to mend a sour relationship, Ben never runs out of plausible advice and viable solutions, always available at the right time but without a trace of arrogance and intimidation.
Edward Lam's review published in Ming Pao Weekly on 17 October laments that De Niro's character is a tribute to common sense, which is often said to be dead. Perhaps I was born too late to witness an era in which knowing the limits and what to do and what not is a common indicator of adulthood. As far as I have seen, those who are able to do so are harder to find than a needle in the haystack. To me, The Intern is more a showcase of positive ageing than mourning for the long lost good. For someone of age and experience, opening up the heart and mind is difficult enough to be disheartening, even more so to opening up without compromising the essence of your true self. While Ben sets a great example for the old and young, his flawless standards are miraculously high to be achievable in this broken world.